Entrepreneurship Programme (EP) Batches (Halwai)
EP Batch-5 (Halwai)
EP Batch-4 (Halwai)
EP Batch-3 (Halwai)
EP Batch-2 (Halwai)
EP Batch-1 (Halwai)
EP Batch-5 (Halwai)
Photo Group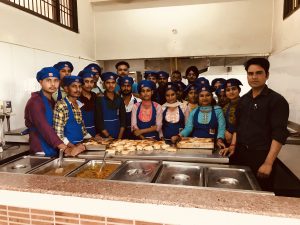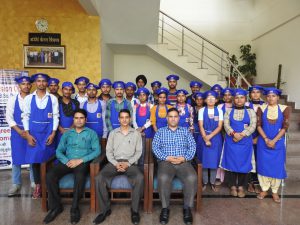 Video Group

EP Batch-4 (Halwai)
EP Batch-3 (Halwai)
EP Batch-2 (Halwai)
EP Batch-1 (Halwai)
Course Title
Waiter-cum-Houseman
Objective
Skill development and certification for employment
Eligibility
8th Class pass
Age: 18 to 28 years
Duration
Six Weeks or 210 hours.
Teaching of seven hours per day – five days a week or 35 hours per week
Industrial Training
Industrial Training of eight hours per week for six weeks. Minimum clock in of 48 hours certified through log sheet by industry / trainer to be organized by institute. In case institute is unable to organize, an additional day of 8hrs per week of training in institute be organized
Admission
Through Advertisement on first come first served basis with minimum class size of 25 and maximum 30 students
Fee
No course fee for trainee. Institute to pay Rs.1500/- to trainee at the end of course
Course Administration
To be delivered by Central Institutes of Hotel Management & four IHMs/FCIs @ Faridabad, Chandigarh, Kurukshetra & Yamuna Nagar
Attendance and Examination
Students must attain minimum 90% attendance to be entitled for stipend. There will be one hour objective type, multiple choice paper to test theoretical knowledge and 4/5 tasks tested in practical. Minimum pass marks are 60%. Two external and one internal examiner during test
Certification
By NCHMCT
Course Details : Waiter-cum-Houseman Course
(Six weeks) THEORY COMPONENT
| | |
| --- | --- |
| S.No. | Topic – Food & Beverage Service |
| 01 | Pride in Nation |
| 02 | Tourism & You |
| 03 | Etiquettes & Basic Conservation |
| 04 | Identification and use of Tools and Equipment |
| 05 | Techniques and principals of cleaning |
| 06 | Personal Hygiene |
| 07 | Food Handling and hygiene |
| 08 | Safety and precautions |
| 09 | Food & Beverage Terminology |
|   | Topic – Housekeeping |
| 01 | Types of Rooms |
| 02 | Types of cleaning agents and their use |
| 03 | Cleaning Agents and their storage |
| 04 | Stock taking |
Course Details : Waiters Course
(06 weeks) PRACTICAL COMPONENT
| | |
| --- | --- |
| S.No. | Topic – Food & Beverage Service |
| 01 | Cleaning the restaurant |
| 02 | Setting up and preparing for service |
| 03 | Use of Tray |
| 04 | Care and maintenance (crockery, cutlery, hollowware and equipment) |
| 05 | Laying of table |
| 06 | Laying of covers |
| 07 | Preparing sideboard for service |
| 08 | Napkin folding |
| 09 | Use of service cloth |
| 10 | Receiving and seating guests |
| 11 | Types of menus |
| 12 | Taking an order |
| 13 | Placing an order in the kitchen / in the bar |
| 14 | Service of common food items |
| 15 | Service of common beverages |
| 16 | Clearing and crumbing of table |
| 17 | Presentation of Bill and settlement of payment |
| 18 | Closing of restaurant |
|   | Topic – Housekeeping |
| 01 | Cleaning of Guest Room |
| 02 | Cleaning of Bath Room |
| 03 | Bed making |
| 04 | Cleaning of surfaces (furniture, fixture and floor) |
| 05 | Carpet cleaning and shampooing |
| 06 | Water and energy conservation |
| 07 | Waste disposal |
Skills Development Program of the Ministry of Tourism HUNAR SE ROZGAR Course Guidelines
Course Title
Cook (Regional)
Objective
Skill development and certification for employment
Eligibility
8th Class pass
Age: 18 to 25 years
Duration
Eight Weeks or 280 hours
Teaching of seven hours per day – five days a week or 35 hours per week
Industrial Training
Industrial Training of eight hours per week for eight weeks. Minimum clock in of 64 hours certified through log sheet by industry / trainer to be organized by institute. In case institute is unable to organize and additional day of 8hrs per week training in institute be organized
Admission
Through Advertisement on first come first served basis with minimum class size of 25 and maximum 30 students
Fee
No course fee for trainee. Institute to pay Rs.2000/- to trainee at the end of course
Course Administration
To be delivered by Central Institutes of Hotel Management & four IHMs/FCIs @ Faridabad, Chandigarh, Kurukshetra & Yamuna Nagar
Attendance and Examination
Students must attain minimum 90% attendance to be entitled for stipend. There will be one hour objective type, multiple choice paper to test theoretical knowledge and 4/5 tasks tested in practical. Minimum pass marks are 60%. Two external and one internal examiner during test
Certification
By NCHMCT
Training Module for Hospitality Training Programme in Food Production Duration 8 weeks
Theory classes : 1 hour per day
Demo/Preparation : 2 hours per day for next day
Practical classes : 4 hours per day

KNOWLEDGE
Understanding the Industry
– Hotels
– Various types of catering establishments
– Different types of kitchens
– Kitchen organisation
– Your place in kitchen
Personal Hygiene for Food handlers
– Your appearance & uniform
– How to wash hands correctly
– How to develop a daily personal hygiene routine
– How to handle equipment and utensils
Basic Hygiene
– Ten main reasons for food poisoning
– To protect food from contamination
– General rules for food handlers
– Prevailing food standards in India , food adulteration as a public health hazard
Cleaning the Kitchen and equipment and preparing for work
– Identification of kitchen equipments
– Various food pans & cooking equipments
– Cleaning Floors/ Work surface/ ventilators / Refrigerators and Deep Freezers
– Cleaning Dish Room
– Pot / Container wash up
– Still Room
– Kitchen Rules
Skill
– Describe the correct methods of cleaning the kitchen equipments
– Explain how to clean the kitchen correctly
– Describe how the working area is prepared for work
Knife Skills
– Peeling and paring with Knives
– Vegetable cuts & Fruit cuts
– Use of Chopping boards / Cutting pads
– Care of Knives
– Explain and observe safety rules concerning knife
– Describe the use of various types of knifes
– Name & explain various types of vegetables & fruit cuts
Washing and Blanching Food
– Soaking food items
– washing
– Disinfecting
– Blanching
– Rinsing
Vegetables and Spices
– identification of vegetables
– standard quality of vegetables
– spices and herbs used in Indian cuisine
Garbage Disposal
– Different methods
– Advantages & Disadvantages
Handling Complaints
– Facts on complaints
– Why do customers complain
– Customers expectations in lodging a complaint
– Complaints are sales opportunities
Basic First-Aid
– Demonstration of first aid techniques preferably by St. John Ambulance
– First of wounds, scars & minor injuries
Egg
– Breakfast Egg Preparation:
– Egg fry (single / double)
– Boiled egg
– Omelette stuffed scrambled egg / Bhurji
Snacks
– Regional snacks including samosa, pakora, idli, dosa, dhokla, noodles etc.
Soup
– Preparation of tomato, vegetable, chicken & three regional soups
Salads and Sandwiches
– Preparation of simple salads and sandwiches
Preparation of
– Chutney, Raita & Indian Marinades
Preparation of
– Rice and Pulses (Atleast four items each)
Vegetable Cookery
– Different vegetables preparations
– Effect of heat on different vegetables
Basic preparation of
– Meat, chicken and fish for Indian kitchen (cuts, joints, portion)
Poultry – Mutton – Fish Curry
– Basis preparation as per regional specialities
Flour
– Kneading of flour, preparation of :
Indian Bread
– Roti
– Poories
– Naan,
– Phulka
– Paranthas
– Kulchas etc
Indian Sweets
– Preparation of regional sweet dishes (At least four)
Beverages
– Preparation of Tea, Coffee, Lassi etc.
Preparation of Regional popular items and Practice (Approx. 12 -15 items)
IMPORTANT: Each popular regional item must be practiced repeatedly to ensure proficiency.